Dive Aid
The DiveAid website is no longer being updated, but has been left here so people can continue to read the accounts of those affected.
Dahab Bombings
As you are all no doubt aware by now, Dahab, Egypt, was targeted by bombers the other night. As a result I have decided to re-activate Dive Aid, to appeal for donations and to try to get information out to divers all over the world about their friends and loved ones. As after the tsunami, many people involved along with their friends found comfort in telling their stories and receiving supportive and loving emails in return.
Many of the victims of the Dahab bombings were known to me as Al Capone's, the restaurant where one of the bombs was left, is a favourite of mine and my students. As with Sharm, most of the victims were locals and it is with them in mind that I ask for donations. Survivors need money to pay their hospital bills - many of them have been taken to Sharm. Families of those who died have also had their only source of income taken from them. I will be working with Dave, Ahmed and Alana at Reef2000 to disperse these funds.
I would also like to add that divers in Dahab gave generously to the Dive Aid appeal when it was originally launched. The reports I have received thus far from them are graphic and horrifying, as they were before, so do please bear that in mind before you read them.
I am aware that I may receive criticism for not reacting to the bombings in Sharm El Sheikh last year. This was for two reasons. I was unable to get first hand reports from friends in Sharm and did not want to publish anything that I could not authenticate. Also, coming soon after the tsunami, when Dive Aid was still in full swing, I found it emotionally difficult to return to a mindset in which I had to process horror and tragedy on such a scale again. I can only apologise.
Please do not let this atrocity prevent you going to Dahab. It it one of my favourite places in the world and the people hold a special place in my heart. Without tourism they would have nothing so please check with the Foreign Office that it is safe to go and enjoy this beautiful town and its wonderful people.
Very best wishes to you all.
Guy Venner, Dive Aid 27.4.06
---
---
Dive Aid - Kao Lak
This is Dive Aid and I need to tell you who we are, what we're trying to do and why.
The people you see in the photo below are all PADI (Professional Association of Dive Instructors) diving instructors or Divemasters. We all met in Thailand where we worked in the dive industry and were devastated to hear about the earthquake and Tsunami.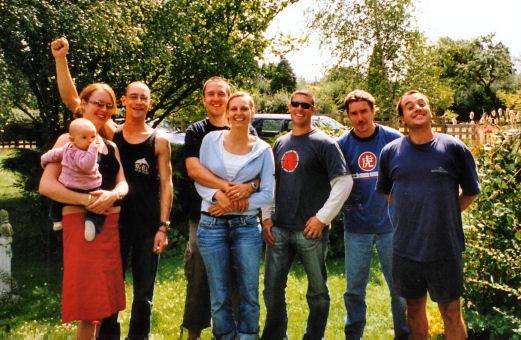 Although our friends in Kao Lak have survived, some have been badly injured and all have lost their livelihoods. The wonderful Thai people we all worked with have, as you know, also suffered the same fate.
We have all donated to the worldwide disaster fund but we have set this site up for the following reasons; the Thais do not have the option to leave their country as surviving holidaymakers have and they need a source of income, and the westerners (or "ferang" to the Thais) who began new lives in Kao Lak have lost everything - clothes, shoes, dive gear (thus their livelihood), and even their homes.
We need to accomplish the following:
To send money to the Thais who worked with our friends (some of whom we know well) and to the families they supported but who can no longer earn as a result of the floods.
To replace the dive gear, clothes and personal items that were lost when the Tsunami wiped out individual's houses. (We are trying to ensure that our colleagues can at the very least work again and soon.)
To provide immediate support to the numerous people who have returned to Europe without clothes, shoes etc… and in some cases, to actually get them home.
Assess the needs of all the people we know affected by the tsunami and implement a strategy of aid that will help in the long term.
Thanks to the internet and email we know that our friends are in hospital or safe. But they have lost everything. With your support we can help to get them all back where they belong, in safety, and ensure that they can work.
What You Can Do
What we need you to do is read the accounts below of what happened and the messages that people have added, then tell all your friends about the site and the stories you've read.
You can contact me at [email protected] or on my mobile (+44) (0)77 2917 8119 and I can give you an address to send cheques to.
Jorgen (PADI #469110), who is co-ordinating fund-raising from Sweden, can be contacted at [email protected] or on his mobile (+46) (0)732 556514.
Andy Krant, who is co-ordinating fund-raising from Denmark, can be contacted at [email protected] or on his mobile (+45) 6168 7696.
Thank you all,
Guy Venner (Scuba-Do Bucks, Beds and Herts)
PADI Identification number 468052